---
Andrew Hallam is one of the world's best-known investment speakers on financial independence. Over the past 16 years, he has given hundreds of talks in over 30 countries. He has presented workshops to teachers, parents and students at 75 different international schools. And he has spoken to employees at roughly 20 businesses around the world.
As a teacher, Andrew was trained to motivate middle school and high school kids. When students describe you as, "fun and crazy" there's something else at play. That's his advantage over other professional speakers. He knows his topic, yes! But he engages his audience and includes them in ways that few non-teachers can.
---
Money doesn't make us happier. Nor does early retirement. But how we spend our time matters, so let me share what I've learned about money, investing, happiness and adventure.
---
KEYNOTE SPEECHES AND SEMINARS
"Dear Andrew, do you give financial talks?"
An international school in Thailand asked me to speak to their teachers about
saving and investing. I flew to Thailand, gave the talk and then the snowball
grew like crazy. I now speak at companies and schools around the world every
year. They've included talks for (yes, for!) famous motivational speakers,
financial advisors and multi-national corporations like Facebook.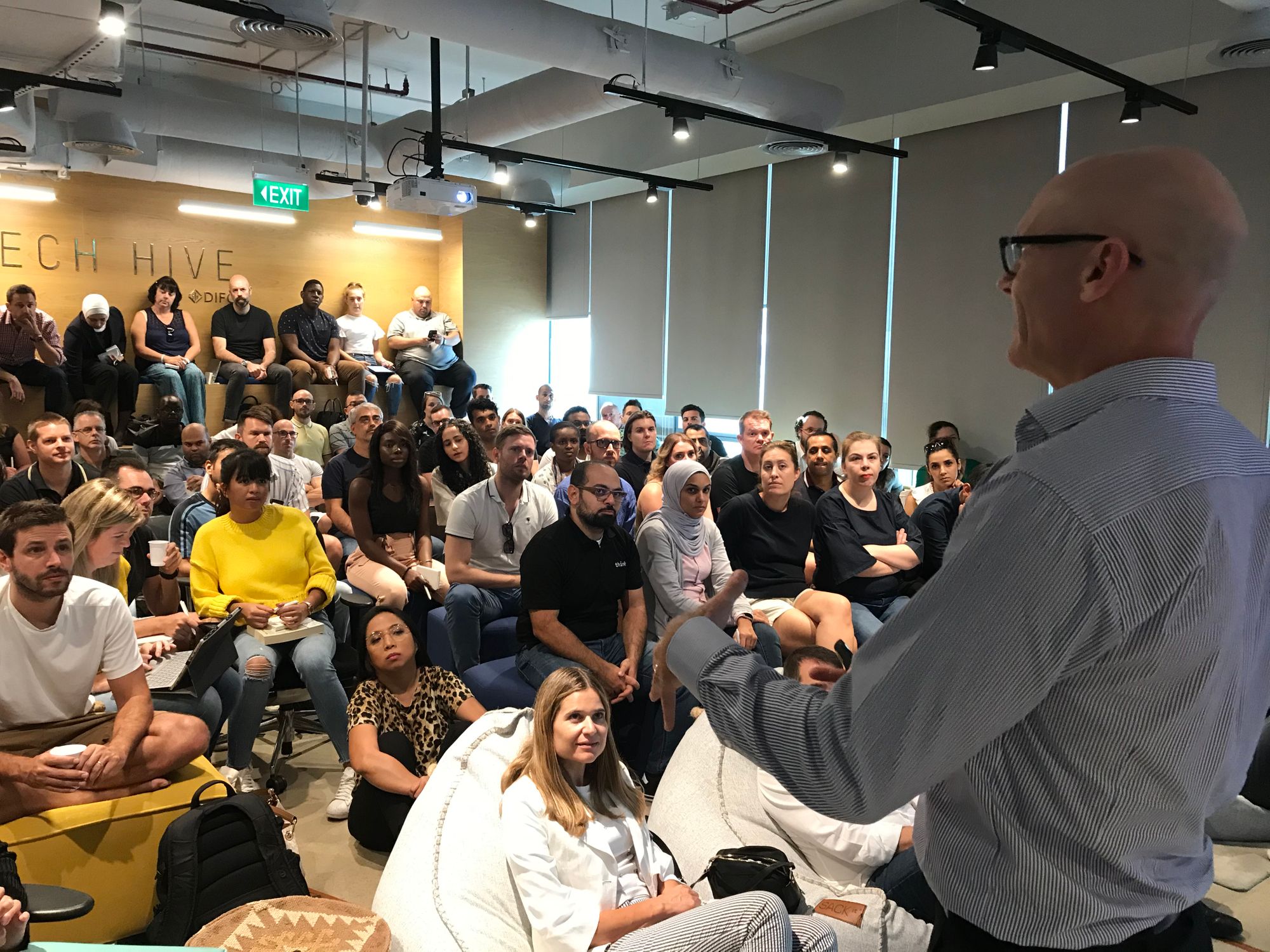 ---
A SAMPLING OF SESSIONS FOR ADULTS
Note: Talks can be tailored to the needs of the organization.
INVESTING
Evidence-Based Investing & Low-Cost Strategies
Simple, Smart Investing: Personal Investing to Work Less and Live More
Why Do Women Investors Beat Men?
THE BEHAVIORAL PSYCHOLOGY OF SPENDING AND SAVING
The Mindset Of A Great Investor
Investing In These Uncertain Times
Happy Spending: Money Doesn't Make You Happier…But How You Spend It Might!
Ordinary People, Extraordinary Wealth: How To Land On The Right End Of The Wealth Gap
LIFESTYLE AND RETIREMENT
What's Your Financial Freedom Number?
How Much Should You Be Investing To Reach Your Retirement Goal?
Low-Cost Retirement Options: How To Retire In Style Without A Lot Of Money
Building Your Children's Financial Muscles
In Retirement, How Do You Increase Your Odds Of Not Running Out Of Money?
BRINGING IT ALL TOGETHER
Invest In True Happiness and Live Your Best Life
A SAMPLING OF SESSIONS FOR STUDENTS
Note: Talks can be tailored to the needs of the organization.
THE PHILOSOPHY OF MONEY
How Do You Define Success?
How To Build Happiness And Wealth By Doing What You Love
Why Financial Success Might Not Be What You Think
Build Financial Wellness, Not Weakness
Invest In True Happiness and Live Your Best Life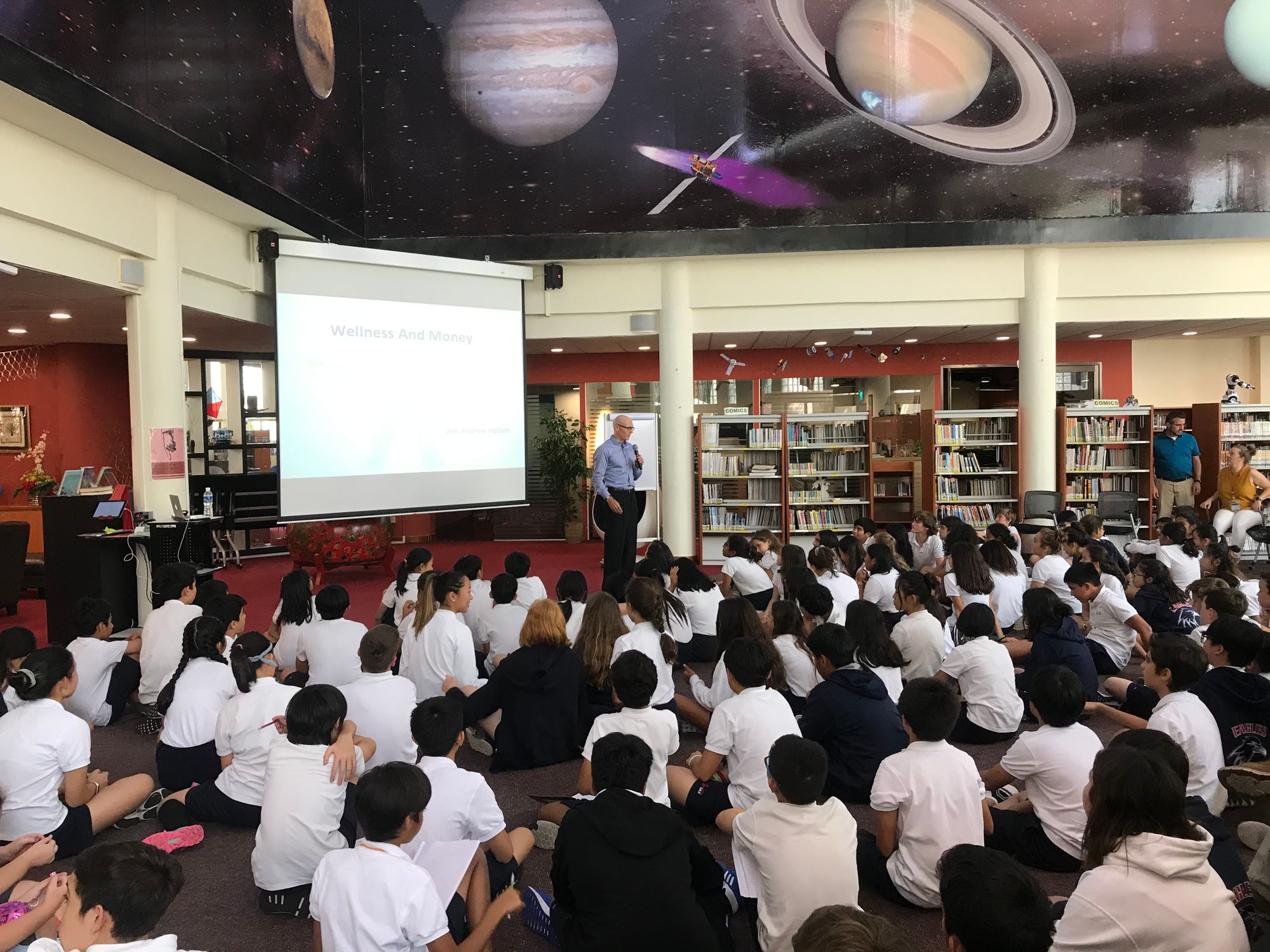 ---
Contact Andrew To Book A Talk
Testimonials
Andrew Hallam is a true friend of international education. His message of hope and personal empowerment is life changing, and for some, life saving. Andrew's proven strategy for retirement planning deserves to be heard by every international educator in the field today. Clear-headed, grounded in common sense, and fueled by academic research, Andrew's approach to personal finance should become a core part of every school's employee orientation program and compensation package, such is the positive impact it will have for employees and employers alike.
— Glenn Chapin, HS Principal, American School Barcelona
(Former Head of School in Guam, Pakistan, Malaysia, and the United States)
---
Andrew's international experience, his comprehensive overview in the field of financial investments and his truly independent & unbiased view are very inspirational for all of our teachers.
— Petr Draxler, Director of Human Resources, International School of Prague
---
It was a pleasure hosting Andrew Hallam at the Benjamin Franklin International School. I specifically sought him out because I had heard so many great things about his presentations. What I love about Andrew is that there is no agenda here. At the core, it is teaching. Allowing teachers to better understand what to do with their money and how to put themselves in the best possible financial position is his goal. It is not selling books or products. It is helping people become more informed. I admire his passion and commitment and hope to have him back again.
–Colin Boudreau, Head of School, Benjamin Franklin International School
---
The important concepts of sustainability and wellness are not lost on modern schools. Increasingly we provide a holistic support system for our students, while often ignoring our own needs – especially in the often taboo area of personal finances. Andrew Hallam's clear, concise, and easy to understand information regarding financial planning provides an antidote to this preventable condition. He is an engaging speaker, who makes the complex world of financial investment accessible and attainable to the layperson. Most importantly, Andrew is insistent on action and presses his audience to get as active in their financial planning as in their desire for a thinner waist or more stress free life. Any school truly committed to staff wellness needs to include financial planning as an intentional and integral component to its staff support programme.
— James Dalziel, Head of East Campus, United World College of South East Asia
---
Andrew is passionate about financial planning and helping people to develop good habits around saving for their future. His enthusiasm, strong communication style and breadth of knowledge in financial literacy means he is able to have constructive conversations with people from all walks of life.
–Russell Cooke Executive Director of Human Resources, Singapore American School
---
I loved Andrew's presentation. He was super engaging and made me excited to think about how I save money. I should also note that this topic does not typically excite me.
–Tracy Wilmer Rops, Early Childhood Educator International School of Prague
---
In the entertaining hour of his interactive presentation, Andrew made a solid, research-based argument for investing in low cost index funds and paying attention to the fees involved in managed funds. Andrew's talk prompted me to make a significant change to my portfolio, which I had not been paying attention to. His talk has saved us a lot of money.
— Dave Straffon, Middle School Principal, AIS Vienna
---
If you're interested in living like no one else during retirement, you need to learn to live like no one else during your working years! Andrew understands, first hand, the realities international teachers face when it comes to retirement planning. His talks and books provide clear, concise, practical, and timely advice for international educators.
–Jeff Devens, School Psychologist, Singapore American School
---
Andrew worked for three days with my staff, walking through the value of investing and the power of compound interest. He demystified the financial services world and gave teachers the confidence they needed to make financial planning part of their lives. Each day he worked with small groups of teachers from different countries to help them navigate the particular rules of their home country. He took time to counsel teachers who had been targeted by unscrupulous companies to make a plan. Everyone left that week with a new point of view on how they spend, save and invest. Thanks for everything you do, Andrew!
— Kattina Rabdau-Fox Instructional Coach for STEM, Saigon South International School Ho Chi Minh City, Vietnam
---
I had the pleasure of attending an information session, led by Andrew, at my school in Switzerland. He is without a doubt the most informed individual I have encountered in terms of expatriate investing and financial planning. Attending the session led me to purchase his book: The Global Expatriate Guide to Investing, which I would consider the "Bible" for expats wanting to learn the most effective low cost way to invest and save for retirement. If you have the opportunity to see or speak with Andrew, I would highly recommend it, as he is the only person in the financial world that is looking out for the interests of expats.
— Fabio Paron, H.S. Economics Teacher The International School of Zug and Luzern, Switzerland
---
Andrew was incredibly generous with his time and delivered 2 talks during this time in Bali. His passion and commitment made an important impact on all of us. I can't recommend his workshops and books highly enough.
— Urko Masse, IT Manager, Bali International School
---
I am very thankful we were able to bring Andrew to Beijing for three days. His talks were direct and no-nonsense; he knew the systems for different countries, so could give focused advice. International schools, with the best of intentions, do their teachers considerable financial harm by promoting poisonous financial services. Andrew Hallam is the antidote. Drink deeply!
— Jeri Hurd, HS Teacher-Librarian/EE Coordinator Western Academy of Beijing
---
With an easy-going manner and financial know-how, Andrew had us take out our computers and do the math. He tackled all questions with inarguable facts, and most of all, he taught us the importance of taking control of our own finances. I left his session feeling empowered and energized, ready to start planning for my own future. I am deeply indebted to Andrew!
–Steve Perkins, International School of Bangkok
---
Andrew offers eloquent, concise, practical and easy financial advice to follow, not just for teachers, but anyone who wants financial independence at any age with any job. He is generous with his time and knowledge.
— Elaine Fong Teacher, Librarian, Singapore
---
I'm grateful that I had the opportunity to see Andrew Hallam speak. His clear, direct and simple plan for retirement had me inspired.
— Jeff Kalas, Upper School Counselor, Frankfurt International School
---
Andrew came to our school and delivered practical and informative workshops on simple investment strategies for teachers that have major ramifications for their retirement savings. Our faculty appreciated his enthusiastic presentation style and his passion for helping fellow educators understand finance. He generously shared his knowledge and resources and answered questions in a straightforward and clear manner. I highly recommend Andrew – a must for all international educators!
–Brett D., Munich International School
---
Andrew is the first teacher to ever teach me about investing. He is the first person who explained what all that jargon meant and how I could become more financially intelligent. He never sold me anything, he never tried, he just shared his knowledge of the financial world, it's outrageous fees and the financial companies who prey on unknowledgeable expats like I used to be. He taught me how to navigate the financial waters to make smart independent decisions so I could plan for my family's future.
–Dave Rops , H.S. Mathematics, International School of Prague
---
It's hard to believe you're learning about finances when you listen to Andrew Hallam speak. As a secondary English and personal finance teacher for almost 2 decades, it's no wonder Andrew's presentations are engaging, easy to understand and inspiring. Highly recommended for those who aren't particularly investment savvy; no matter where you are on your financial journey, you'll walk away feeling empowered and enlightened.
–Melissa Pritchard, Grade 4 teacher, GEMS Academy Lausanne, Switzerland